Drive a 9 seater hire car in Munich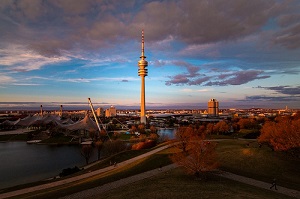 Enjoy a family or group vacation in Munich, the capital of the state of Bavaria in Germany. Tour the sights in a nine seater car in Munich's mix of historical and world renowned modern architecture and explore the surrounding beautiful Bavarian countryside.
Central Munich
The cathedral for the Archdiocese of Munich and Freising, Frauenkirche is undoubtedly the most famous building in the city centre. Nearby lies the largest renaissance church north of the Alps, the Michaelskirche.
Neuhauser Strasse provides a fantastic shopping experience and when you have grown tired of that you can enjoy an authentic German dining experience at the Augustiner restaurant. For the children there is the Munich zoo which is one of the the best in the world.

Olympiapark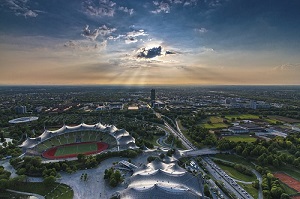 Munich also has a lot of stunning modern architecture and green spaces to offer after you've popped around in the historic city. The Englischer Garten is worth a stroll - you may be lucky enough to find a band playing. Featuring space age-looking designs in the midst of stunningly-manicured gardens and a lovely lake, Olympiapark should be on your list of sights and you can always take a turn around the ice rink if you fancy it!
Rich in modern architecture and modern history the Olympiapark was the host of the 1972 Olympics.
Out of the city
A 9 seater car hire will come in very handy to make the most of all the sights that can be explored in the surrounding area.
Not too far south you can visit the enchanting Neuschwanstein, well-known as the castle from Chittychittybangbang - once the castle of Ludwig II King of Bavaria. Ludwig drowned aged 40 in the Starnberger See, a lake within an easy drive of Munich. Here you can hire pedalos or take a tour on a boat, eat at one of the lovely restaurants along the shore or take a stroll around the lakes.
Munich and Bavaria has so much to offer from lakes to mountains, from castles to shopping. There is something for every member of the family to enjoy so why not travel together in comfort in a 9 seater car hire.