Hire a Renault Trafic rental car
The Renault Trafic is a compactly-designed, stylish people-mover designed with your comfort in mind. With its plunging nose, slanting headlights and wrap-around side protection mouldings, the Renault Trafic is a vehicle with a strong expressive appearance. Not the look you would expect for your typical mini-van! Reserve a Renault Trafic car hire the next time you need to transport your family or group around town.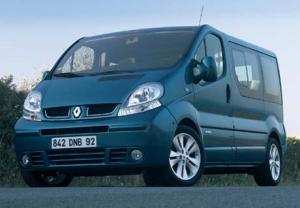 You will enjoy driving this car despite its size.The Trafic has excellent roadholding, and performs well on all types of surface.The front suspension features a MacPherson strut and anti-roll bar for added reassurance when it comes to handling.
Although you may be driving around a load of up to 9 adults and all their belongings, you will find the steering precision and ride comfort comparable to a large car. In the rear the torsion beam suspension adapts to the road in order to provide an excellent compromise between handling and comfort. Whether your group is top executives or a bunch of exhausted and sleeping kids, you can trust that they will ride smoothly in a Renault Trafic car rental.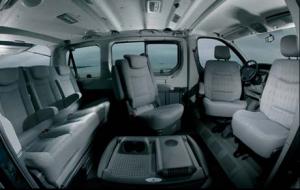 The interior is designed to be both spacious and practical, with all the right gadgets, holders, and other features to suit the needs of your group. For the driver the Trafic includes a highly functional dashboard and the gear shift is integrated into the dashboard. The driver's seat is equipped with armrests and lumbar adjustment for maximum comfort.
Get everyone where they need to go on your next family or group vacation by booking a Renault Trafic rental car online before your holiday.