Peugeot Expert Tepee Car 9 seater Car Hire
The Peugeot Expert Tepee is the ideal vehicle for those who are looking for versatility when it comes to their hire car. The seats can be arranged in many different layouts and the flat floor means it is easy to fit suitcase or other luggage on board.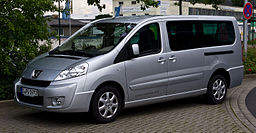 The sliding doors are also a bonus as you can easily load and unload passengers and baggage. It may have a boxy shape as it is based on the original van but the square corners make parking easier.It is a practical car with an economical engine and a spacious interior.
Photo courtesy of M93 at Wikimedia Commons
https://tinyurl.com/pjng6lb